Lease the 2020 Honda Insight!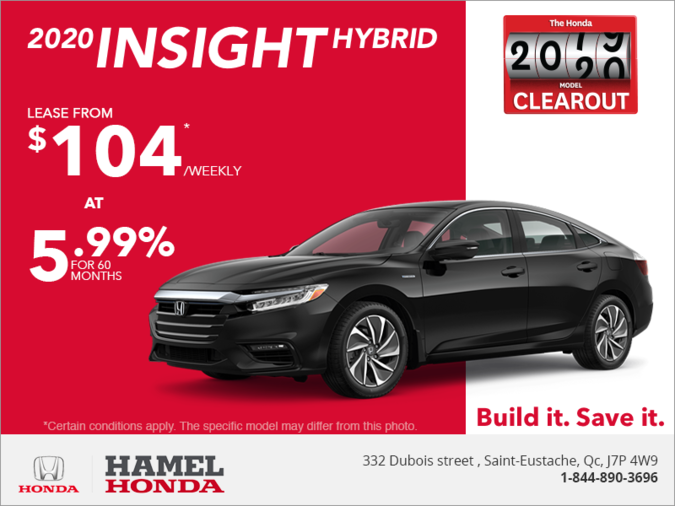 Lease the 2020 Honda Insight Hybrid from $104 weekly at 5.99% for 60 months!
Selling price of vehicle is $30,560.
Some conditions apply. This offer is valid until September 3rd, 2019.
Offres d'une durée limitée en vigueur sur les contrats de vente au détail admissibles, jusqu'à épuisement des stocks, sur les modèles Honda neufs et jamais enregistrés. 1Insight hybride Hybrid 2020. Taux d'intérêt annuel en location de 5.99 % sur 60 mois. Paiements hebdomadaires de 103,99 $. 260 paiements sont requis. L'obligation locative totale est de 0,00 $ (ne s'applique pas au Québec). Un acompte de 0,00 $, des frais d'enregistrement de privilège (allant jusqu'à 39,00 $), la commission liée aux frais d'enregistrement de privilège (allant jusqu'à 6,50 $) et la première payement hebdomadaire sont payables au début du bail. Allocation de 20000 kilomètres et frais de 0,08 $/km applicables aux kilomètres excédentaires. Des conditions s'appliquent. POUR TOUTES LES OFFRES : Jusqu'à 1 770,00 $ en frais de transport et d'inspection prélivraison, en frais applicables, en impôts et en obligations (lesquels peuvent varier selon la région et le concessionnaire) : (i) inclus en Colombie-Britannique, en Alberta, en Saskatchewan, au Manitoba, en Ontario et au Québec; (ii) en sus à l'Île-du-Prince-Édouard, en Nouvelle-Écosse, à Terre-Neuve-et-Labrador, au Nouveau-Brunswick, au Yukon, au Nunavut et dans les Territoires du Nord-Ouest. Le permis, les assurances, l'enregistrement [y compris, le cas échéant, les frais d'enregistrement de privilège (jusqu'à 39,00 $) et la commission liée aux frais d'enregistrement de privilège (jusqu'à 6,50 $)], les droits sur les pneus neufs (au Québec seulement) et les taxes applicables sont en sus. Les montants de toutes les mesures incitatives seront déduits du prix négocié du véhicule, après les taxes. Le modèle ou les modèles n'apparaissent qu'à des fins d'illustration et peuvent ne pas être munis de l'équipement illustré. Certaines caractéristiques ne sont offertes que dans certaines versions. Les offres se terminent le 08-31-2019 et peuvent être modifiées ou annulées sans préavis. Les offres de location et de financement sont assurées par l'entremise de Services Financiers Honda (SFH) sur approbation de crédit. Visitez le site honda.ca ou consultez un concessionnaire Honda canadien participant pour tous les détails. © 2019 Honda Canada Inc. **Offres de financement et de location sur approbation de crédit. Offres régionales, certaines conditions de location et de financement s'appliquent. Visitez votre concessionnaire Honda pour plus d'information. L'utilisation de tout calcul et/ou de tout outil sur honda.ca ne constitue pas une offre de financement direct ou de location, de financement, de l'option d'achat ou de transaction en particulier. Tout calcul et tout outil n'est offert qu'à titre d'illustration. Les taux et les exigences peuvent variés selon la solvabilité. Des efforts raisonnables sont faits pour assurer l'exactitude du contenu dans les pages de honda.ca. En cas de divergence, d'erreur ou d'omission, les prix du véhicule, les offres et les caractéristiques tels qu'établis par Honda Canada et les concessionnaires Honda participants au Canada prévaudront. Les véhicules affichés sur ce site Web pourraient ne pas être disponibles à tous les emplacements. Communiquez avec le concessionnaire Honda de votre région concernant la disponibilité des véhicules actuellement en stock pour l'achat ou la location.